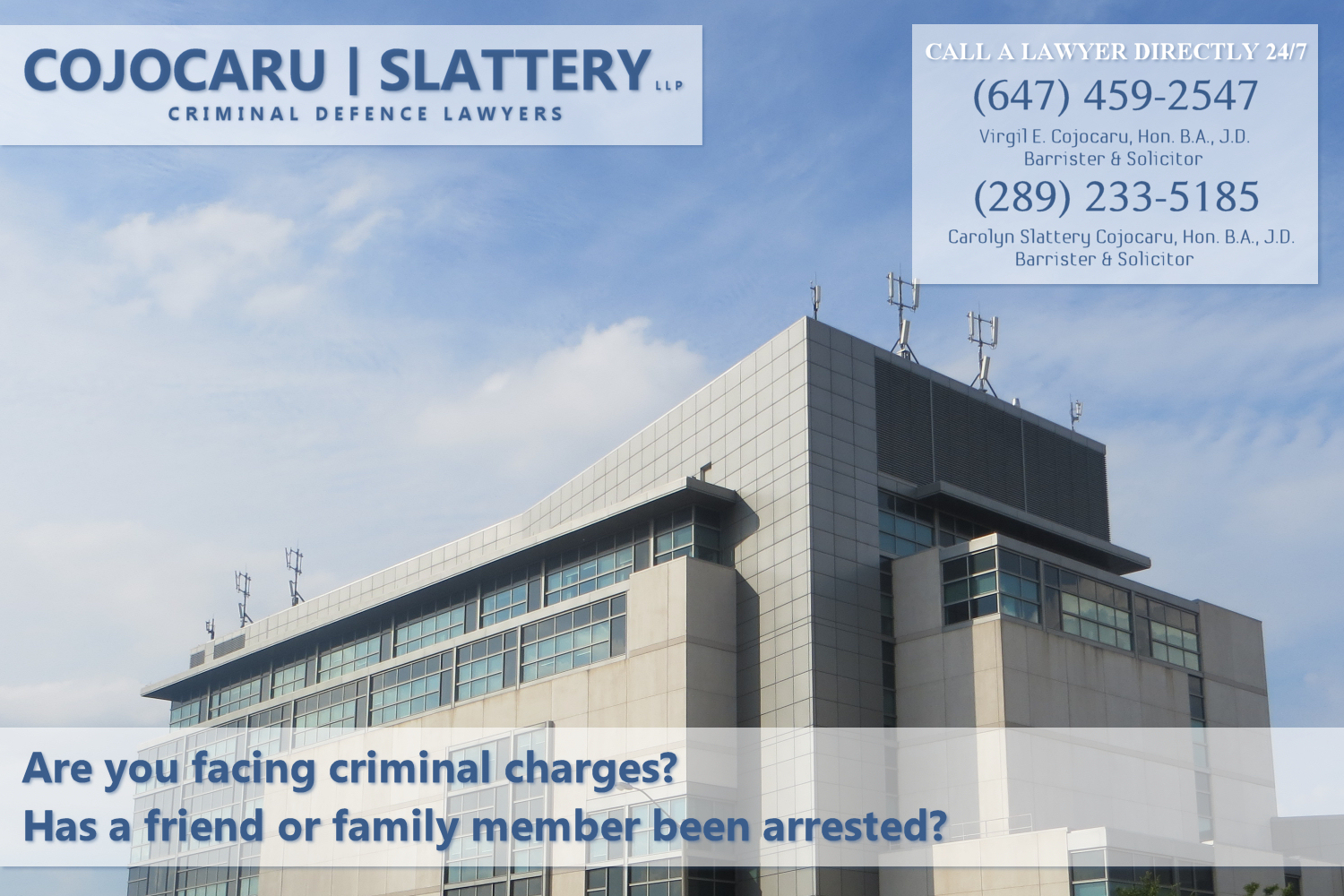 COJOCARU SLATTERY LLP operates exclusively in the field of CRIMINAL DEFENCE, defending all criminal charges, adult and youth, including:

Violent Crimes - All Assaults, Assault Police, Harrassment, Utter Threat, Weapons Dangerous, Robbery, Sexual Assaults, Attempt Murder
Gun Charges - Unauthorized Possession, Carry Concealed, Careless Storage/Use, Pointing Firearm, Prohibited Firearm, Loaded Firearm, Ammo
Property Offences - Mischief, Theft, Fraud, Possess Stolen Property, Break & Enter, Stolen or Fake ID / Credit Cards
Drug Charges - Possession, Possession for the Purpose of Trafficking, Grow Operations, Searches, Drug Busts (Marijuana, Cocaine, Heroin, etc)
Driving-Related Criminal Charges - Impaired Driving, DUI, Over 80, Fail/Refuse Breath Sample, Drive Disqualified, Dangerous Driving
Offences Against the Courts - Fail to Comply with Recognizance/Undertaking/Probation, Obstruct Justice, Fail to Appear, Breach Court Order

...and any other Criminal Code or Controlled Drugs and Substances Act Charges.



We perform bail hearings for all criminal matters, should someone you know be in custody.
Don't delay. Matters in the criminal justice system are time-sensitive. Contact COJOCARU SLATTERY LLP as soon as possible.




COJOCARU SLATTERY LLP is comprised of Virgil E. Cojocaru and Carolyn S. D. Slattery Cojocaru, two lawyers who practice exclusively in the area of criminal defence. We've focused on this area of the law specifically since being called to the bar, and do not practice any other type of law except criminal defence.

While many firms service Peel Region or have a satellite office nearby, COJOCARU SLATTERY LLP is based in the heart of Brampton and holds a solid reputation at the Brampton Courthouse based on years of experience. We are familiar with the procedures, people, and places involved, and are known as well-respected members of the Brampton Criminal Defence Bar.

Further, at COJOCARU SLATTERY LLP, we understand that the criminal justice system is both serious and dynamic. As a result, we serve our clients with accessibility in mind: We do not maintain "office hours", we book by appointment, and when you call, you reach our lawyers directly via cell phone. When you come in for a free consultation, our office is centrally located in downtown Brampton, fully accessible, and close to transit. Though based in Brampton, we service the GTA and beyond.

A criminal charge can have a dramatic impact on your livelihood. Criminal matters require dedicated Counsel who are able to communicate and work together with the client to ensure they understand the process and their available options. Virgil and Carolyn are willing and able to do so, and will fashion an action plan best suited to address your particular circumstances.

Experience the difference at COJOCARU SLATTERY LLP
We welcome your phone call today.

Call Virgil Cojocaru, Barrister & Solicitor at (647) 459-2547 or Carolyn Slattery Cojocaru, Barrister & Solicitor at (289) 233-5185.




Some of our recent work includes:


- Serious firearms charges against our client withdrawn by the Crown Attorney before preliminary inquiry proceeds.
- Client originally facing half a year in jail avoids criminal record completely.
- Client charged with Possession of Cocaine for Purpose of Trafficking avoids jail time via plea to a lesser offence.
- Serious charges stayed after Cojocaru Slattery LLP successfully argues client's rights were breached via unreasonable delay in reaching trial under new case law.
- Client with extensive record receives two weeks custody for property offences. Crown originally seeking four months.
- Client charged with two Breaches of Probation has charges withdrawn completely.
- Serious trafficking-related drug charges result in a short period of house arrest rather than jail time for client.
- Youth client in custody for Possession of Methamphetamine for Purpose of Trafficking and Break and Enter avoids further jail time.
- Approximately 50 drug-related charges against one client are reduced to only 12 charges through extensive work by Cojocaru Slattery LLP.
- Client charged with a residential break and enter robbery using an imitation firearm is acquitted of all 6 charges at trial.
- Client charged with Aggravated Assault (Stabbing) retains Cojocaru Slattery LLP and avoids conviction via community service hours.
- Client charged with Utter Threat and Breach Probation after false allegations made. Found not guilty on both charges after a day and a half long trial.
- Client facing Assault Police and Fail to Comply with Recognizance of Bail charges is acquitted at trial.
- Forcible Confinement and Robbery charges for which Crown originally sought 6 months are withdrawn, client enters plea to Assault and avoids jail altogether.
- Client charged with Theft Under (Shoplifting) and Assault Resist Arrest has both charges withdrawn after a small restitution payment is made.
- Client facing two separate cases of Breach Recognizance, both charges withdrawn after a series of meetings with the Crown Attorney.
- Crown Attorney agrees that instead of 30 days jail, client may perform counselling and resolve matter via Peace Bond, avoiding jail time and criminal record.
- Client charged with Trafficking Stolen Property avoids a criminal record or guilty plea. Crown originally asking for probation, which would entail a conviction.
- Client has a charge of Breach Recognizance withdrawn on the day of trial after discussions with the Crown Attorney, who was originally asking for jail time.
- Possess Property Obtained by Crime case involving multiple charges completely withdrawn before trial is set to begin.
- Client charged with 24 counts relating to cheque fraud. All charges withdrawn as a result of discussions with the Crown Attorney.
- Youth client charged with Utter Threat has charge dropped entirely.
- Client originally screened for a month of straight time for an Assault charge enters into peace bond, avoiding guilty plea and criminal record.
- Client facing trial on Assault Police and Trespassing charges has charges dropped on day of trial, enters into a peace bond, avoiding plea and criminal record.
- Youth client charged with Assault receives a Judicial Reprimand which leaves him with no criminal record.
- Client with approximately 20 different charges retains Cojocaru Slattery LLP for Bail Review in Superior Court of Justice and is released on bail.
- Client facing residential Break and Enter charge has matter dropped entirely by the Crown Attorney.
- Youth client facing two different Robbery cases has both Robbery charges completely withdrawn via discussions with Crown Attorney.
- Client charged with two charges of Utter Threat has matter dropped after Cojocaru Slattery LLP files a Charter motion in relation to excessive delay of her case.
- Client charged with domestic assault retains Cojocaru Slattery LLP. Assault charge against client is dropped after the first discussion with the Crown Attorney.



Actual recent cases, information removed. Your privacy matters. Cojocaru Slattery LLP never publishes client names or initials.




Virgil E. Cojocaru
Barrister & Solicitor

Direct Cell: (647) 459-2547
Call Collect: (416) 775-0195 for clients in custody
Fax: (416) 352-6195
Email: virgil@bramptonlaw.ca


Carolyn S. D. Slattery Cojocaru
Barrister & Solicitor

Direct Cell: (289) 233-5185
Call Collect: (416) 775-1762 for clients in custody
Fax: (416) 352-6195
Email: carolyn@bramptonlaw.ca

Office Location

57 Mill Street North, Suite #209
Brampton, Ontario
L6X 1S9

(within the "Old Shoe Factory" building, on the 2nd floor)
View Larger Map
© 2018 Cojocaru Slattery LLP. Disclaimer and Terms of Use:
The contents of this website are purely informational and are not, and should not be taken as, legal advice. If you are charged with a criminal offence, speak to a lawyer at Cojocaru Slattery LLP in order to receive legal advice.
Use of this website does not create a solicitor-client relationship between the user and counsel at Cojocaru Slattery LLP. Please note that, should you use e-mail to contact Cojocaru Slattery LLP, that the use of e-mail communication may not be secure.
Confidential information should not be sent to Cojocaru Slattery LLP prior to retaining counsel. Cojocaru Slattery LLP will not be held liable for any damages, direct or indirect, which may result from the use of any data found on this website.
Reliance on any information found on this website is entirely at the user's own risk. Should the user not agree with any of the above Disclaimer and/or Terms of Use, the user should discontinue use of this website.

Criminal Lawyers, Criminal Defence, Criminal Defence Lawyers, Defence Lawyers, Brampton Criminal Defence, Brampton Criminal Defence Lawyers, Brampton Defence Lawyers, Brampton Criminal Lawyers